History of the Project
Flight Systems Inc. (FSI) was founded at Newport Beach, California during 1968 by Bob Laidlaw, an MIT graduate with an advanced degree in Aeronautical Engineering. In the early '70s Laidlaw acquired the assets of Long Beach-based Flight Test Research, among these being a Canadair Sabre 6 (N186F) and four Canadair T-33 Silver Stars. These aircraft went to to equip FSI's new flight test operation at Mojave in California, and it was during this period that Laidlaw came to know Dave McEwen in Moncton, New Brunswick. McEwen had just begun to overhaul a large number of ex-Royal Canadian Air Force (RCAF) Sabres he'd bought during 1970, and McEwen began supplying FSI with spare parts for N186F.


Flight Systems' first Sabre - N186F, seen here in April 1974. Though not initially involved in the drone programme, it was leter converted into a 'production' QF-86E.
During 1973, Laidlaw attended a Targets Conference at Point Mugu, where it emerged that the Army's target office might be in the market for full-size aerial targets, if the price was right. With the Sabre foremost as his first choice, Bob Laidlaw began research into whether it would be possible to source and modify this type into a pilotless drone target.
An initial FSI drone proposal was submitted to the U.S. Army Targets Branch at Huntsville in December 1973, and a 'proof of concept' contract was signed a year later. Concurrent with the Proof-of-Concept agreement, Laidlaw was able to secure a purchase option on approximately fifty-five of Dave McEwen's ex-RCAF Canadair Sabre 5 airframes. Laidlaw travelled up to Canada to meet McEwen and view the Sabres, and on the basis of anticipated Army interest immediately acquired a three month option on the entire lot. He and McEwen also negotiated an arrangement whereby extensions of the initial option would involve the purchase of individual aircraft.
The prevailing USAF view at this time was that a drone system should be designed with the same degree of redundancy as a missile system since it could no longer be viewed as a manned aircraft. Thus, for example the contemporary QF-102 had dual systems and failure mode analyses and once its ejection seat had been removed and a large avionics package was installed in its place. As a result, the drone conversion was very expensive (over $500,000 per unit) and such a drone could not be flown to another location without removing a substantial amount of equipment and "man-rating" it for the ferry flight.
FSI took a different tack: the company thought that if the drone conversion could be kept simple, and the drone was never flown without a safety pilot except for actual missile firings, then the probability of losing an aircraft due to system failure would be very low. As a result, the QF-86E conversion could be relatively simple and would thus minimize cost. Minimum disruption of the aircraft systems also ensured that the conversion process was quick and easy to embody.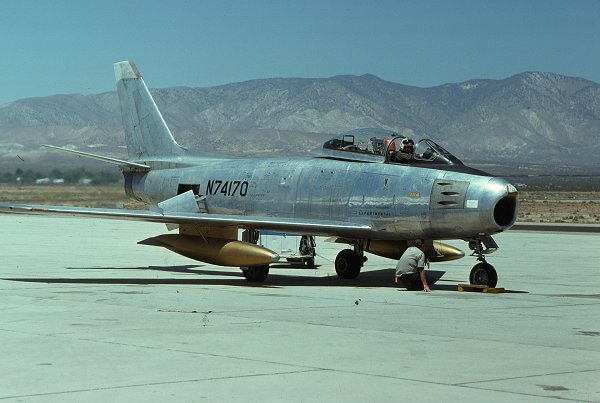 The start of it all: N74170 shortly after its first flight as a QF-86E at Mojave, May 1975.
In March 1974, the purchase option on the McEwen Sabre 5s expired, and in order to renew the option for an additional six months, FSI purchased one aircraft from the New Brunswick firm. The refurbishment of this machine (ex-RCAF 23320, placed on the US civil register as N74170) was completed at Moncton and the Sabre was ferried to Mojave to become the first prototype drone. When the six-month option expired again in September 1974, FSI was required to buy a second Sabre in order to extend its purchase option further. This aircraft (ex-RCAF 23096, US registered as N8686F) had been owned by the Boeing Company, which used it as a chase plane during airliner test flights. It was traded to McEwen's company for a Sabre 6 replacement, which subsequently served Boeing for nearly two decades. FSI in turn obtained N8686F directly from Boeing, and its registration was changed to N74180. It was ferried from Seattle to Mojave where it would become the second drone prototype.
The development contract for what became the QF-86E called for two 'proof of concept' Sabre drones, to be converted, tested and proved to the Army by Flight Systems prior to September 1975 – giving the company just nine months. Demonstration of the QF-86E system was to include complete target presentations conforming to the requirements of the Stinger Program office.
Working at Mojave, Laidlaw's personnel set about the task of fitting a remote flying control system into the airframes, all the time adhering closely to the ideal of minimal modification to the basic structure of the aircraft; it was Laidlaw's aim that each QF-86E could be converted back to 'standard' configuration in a short space of time if necessary. Noting that the main aircraft flying control runs passed through the left-hand gun bay, Laidlaw concentrated on locating electrical actuators there, which would move the controls through a simple electrically-actuated clutch system. The whole design proved far simpler than that fitted to the QF-102/PQM-102, and also required fewer personnel and less preparation to fly a mission. Actual modification of the first aircraft began during February 1975, and N74170, the prototype QF-86E flew for the first time in April 1975. This coincided with the start of modifications on the second aircraft, N74180. After approximately six weeks of drone system flight testing in the Mojave area, N74170 was moved to Holloman AFB in May to begin range integration testing at the White Sands Missile Range. The second aircraft arrived at Holloman in mid-June 1975 and both aircraft successfully completed 60 hours of full-scale target presentations. The contract was completed ahead of schedule and under budget.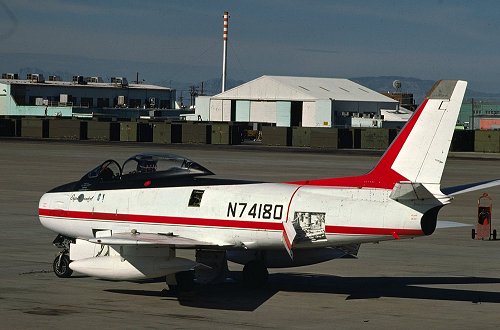 N74180, the 2nd QF-86E prototype, at Holloman AFB in August 1975.
The ground control portion of the FSI drone package was constrained by having to use a generic QF-102 system (the contemporary QF-86H in contrast, used a converted Sabre procedures trainer for ground control). Control was from one fixed and one mobile station manufactured by Vega Precision Laboratories, or a Drone Control System made by IBM.

Flight Systems used this US Army van as a mobile ground station for controlling the QF-86Es during the early Holloman tests.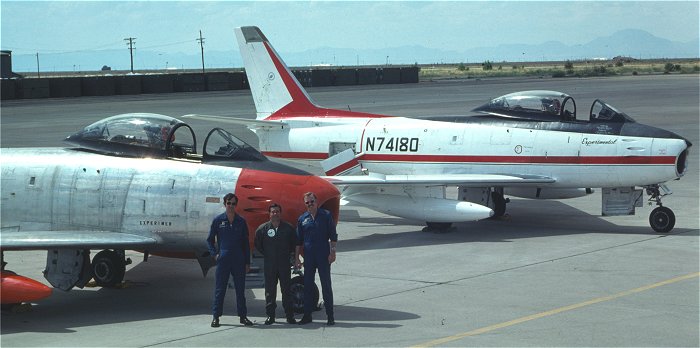 Flight Systems QF-86E flight test crews pose with both prototypes at Holloman, August 1975; Bob Laidlaw is at right.
Bob Laidlaw himself carried out flight testing of the QF-86Es – he also acted as a safety pilot in the cockpit of the aircraft on each 'remote' flight. The first phase of the flight test programme centred on the system's onboard items. Unable to utilise a ground station during the flight test phase, FSI personnel devised an Airborne Test Panel (ATP), which replicated all command and downlink information for the aircraft, and displayed it on a console fitted atop the QF-86E's main instrument panel. Thus, instead of, for instance, operating the speed brake switch on the QF-86E's throttle lever during a flight test mission, Laidlaw would operate a similar switch on the aircraft's ATP. The signal from this switch was then relayed electronically through the Interface Control Unit (ICU– described below) back to the speed brake system, thereby simulating an input from a ground-transmitted signal. Lights on the ATP indicated downlink discrete responses and continuous signals were read out on a channel-selectable digital voltmeter. The pitch and roll uplink signals were obtained as strain gauge outputs from a specially instrumented flight test stick grip, which replaced the standard aircraft stick grip. The normal gun sight caging switch on the stick grip was mechanised to provide an emergency autopilot disconnect function by removing power from the flight control and throttle clutches. In designing the ATP, Flight Systems had successfully demonstrated simple fly-by-wire on-board control of the QF-86E.

This is the Airborne Test Panel that FSI developed for flight testing the QF-86E prototypes; this item was installed above the main instrument panel in the space previously taken by the aircraft's gunsight.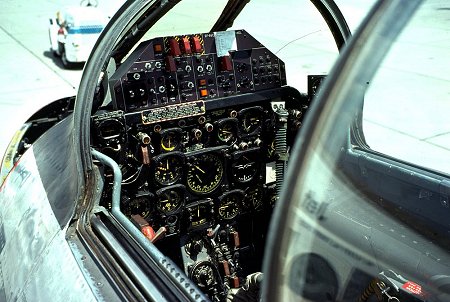 Airborne Test Panel fitted in N74170, June 1975.
Once into the Holloman/White Sands flight test, White Sands Missile Range safety personnel installed and qualified the flight termination system. Since all command operations were now ground based, the ATP was removed from each of the test aircraft, and the instrumented stick grip was replaced with a standard control column with the gun trigger rewired as a "dead man" switch since these missions would still be flown with an on-board safety pilot. Ground command of the drone was enabled only as long as this switch was held depressed by the safety pilot. Releasing the switch removed power from remote control inputs, allowing the safety pilot to take control of the aircraft, a feature which proved invaluable during ground operator training periods.
By August of 1974, the whole programme had demonstrated the safe and inexpensive operation of the QF-86E system, including weapons presentations for the Stinger Program Office. As a result, the Army awarded FSI its first drone contract, which was basically for the purchase of the two prototype aircraft, though a further order was placed for production drones.
The Production QF-86E
In order to fulfil the QF-86E production contract, the Sabre 5 components were cleaned and partially overhauled at David McEwen's plant in Moncton. They were trucked in crates to Mojave for overhaul completion, final assembly, drone conversion, and flight testing. The Moncton plant opened on 30th September 1976, and initial deliveries of QF-86E aircraft from Flight Systems to the US Army began in mid-1977. By 1st January 1980, thirty-six had been ordered. At this point the remaining aircraft and spares were relocated to Mojave.
To complete conversion of Sabres to pilotless drone status, Flight Systems settled on a final system configuration that varied little from the original QF-86E prototype specification. The conversion comprised the installation of the following equipment:
1. Transponder
2. Interface Control Unit (ICU)
3. Flight Control and Autopilot System
4. Flight Termination Set (FTS)
5. Manoeuvre Programmer
6. Television Camera
7. Mission Related Systems:
All QF-86E target drones were equipped with a smoke system, similar to that fitted to Golden Hawks aerobatic team aircraft. The system comprised an oil storage tank located in the right hand gun bay and pumped oil through an external feed line to a nozzle located in the jet pipe. When the smoke system was activated via a further discrete signal, oil was fed into the exhaust to create a smoke plume. The smoke trail could be either continuous or broken, depending on whether the smoke pulse generator in the ICU was activated by a separate discrete arming command. The smoke system was mainly used to aid in visual acquisition of the drone by either ground personnel or the chase plane pilot.
Mission requirements called for the external carriage of many items of special equipment, in addition to 120-gallon drop tanks. These items included miss distance scoring devices, chaff/flare dispensers and electronic countermeasures (ECM) jammers for radar guided missiles. Installation of these systems was normally customised to individual program needs, but actuation was accomplished via spare discrete channels on the uplink system.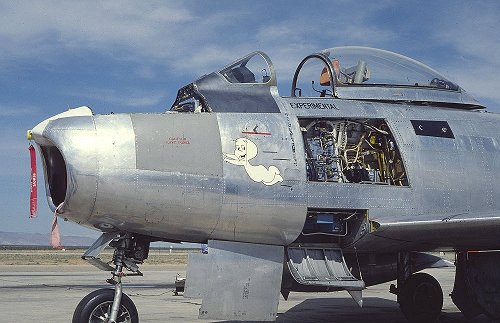 Close-up view of N201X, one of the first production QF-86Es. Note the wing fillet mounted permanently to the ammunition door/step; this was a unique FSI modification.
Into Service
The QF Sabres were placed on the US civil register by FSI for flight testing, but carried 'US Army' titles and the RCAF serial on the tail fin prior to delivery to the Army at the White Sands Missile Range in New Mexico. Around fifteen FSI personnel (pilots and technicians) were deployed to Holloman AFB NM for QF-86E operations. Each drone flew on average around twenty-five hours prior to being shot down, as destruction of the QF-86E was usually avoided.


N74180 on the Northrop Strip, White Sands, 1976.
At White Sands, the great majority of QF-86Es were lost to surface-to-air weapons being developed for the US Army. However, not all of the weapons went on to illustrious service with the military; they would go down in history as expensive failures.
The first such weapons system to utilise QF-86E targets was the Roland 2. Intended as an anti-aircraft defence system to counter aircraft travelling at speeds up to 1.5 Mach, the system was to be deployed on a tracked AMX 30 tank chassis. The Roland 2 missile itself was radar guided from the ground, and achieved its first QF-86E kill against 23306 on 22nd July 1978. A further Sabre drone was damaged during Roland testing on 16th August, but the aircraft was recovered successfully. Roland 2 proved to be effective at intercepting aircraft and helicopters up to a range of 6,000 metres, and was approved for low-rate production in October 1979. However, budget restraints led to the cancellation of the whole programme in September 1981.
Another dead end project was the M247 Sergeant York anti-aircraft gun. Known also as the Division Air Defence Gun (DivAD), the system comprised a twin-40mm Bofors gun mounted on a modified M48A5 tank chassis. Gun aiming was via a modified APG-66 radar, as used on the F-16 aircraft. Ford Aerospace trialled the system at White Sands' McGregor Range, the high point being the destruction of two QF-86Es on 29th August 1980. The aircraft involved were 23320, the prototype QF-86E, and 23128. Unfortunately, the poor performance of the tank chassis and the low rate of traverse of the DivAD turret proved insurmountable; the Sergeant York project was canned in December 1986.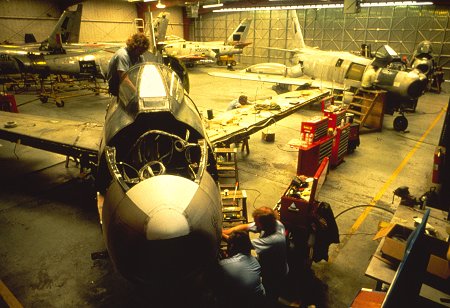 Flight Systems' conversion hangar at Mojave. Note the smoke oil tank in the gun bay of the aircraft at right.
Nonetheless, a number of successful weapons systems were proved thanks in part to the use of full-size aerial targets, and the QF-86E. The FIM-92E Stinger, a shoulder-launched 'fire and forget' missile was proved in its first shoulder firing against a QT-33 target on 17th July 1975. With the missile entering service in 1982, QF-86E drone 23160 was downed on 21st August of that year, the culmination of a number of Sabre drone presentations for this weapons system.
Another important weapon, the Patriot missile of Gulf War fame, was extensively tested against QF-86Es over White Sands, and scored its first kill against drone Sabre 23028 on 12th October 1978.
Mill Race was a high explosive simulation of a nuclear blast, carried out on alternate years at White Sands on behalf of the Defense Nuclear Agency. In one Mill Race test, held on 16th September 1981, a heavily instrumented QF-86E was used in the unmanned mode, timed to be over the blast area at detonation to collect shockwave data.
By October 1984, fifty QF-86Es had been delivered to the US Army, from a final total of fifty-six. Further Canadair Sabre airframes were obtained from South Africa in 1981, but most of these aircraft were never converted for use by FSI or the Army. Additionally, FSI's first Sabre (N186F, a Mark 6) was converted into a QF-86E drone – the only Sabre 6 thus converted. It was lost in a heavy landing and subsequently scrapped at Mojave. Aside from the drone Sabres, one ex-South African Air Force Sabre 6 was based at Holloman, still carrying its distinctive camouflage scheme. This aircraft, previously serialled SAAF 350, carried the tail number '23669'.
The US Army QF-86E drone program finished in June 1996 and the drone requirement was then filled by the QF-100, a design which was initially drawn up by Sperry, but subsequently taken up for production by Flight Systems. The first F-100 arrived at Mojave in early 1985 for conversion. Incredibly, a number of QF-86Es survived the Army's weapon test programmes, and fly on today as privately-owned aircraft.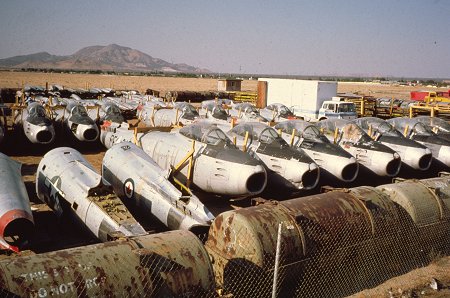 Flight Systems' storage area at Mojave. Note USAF F-86F fuselage in foreground.
The QF-86E specification was as follows:
Powerplant: One Orenda 10 engine, rated at 6,325 lb thrust.
Fuel Capacity: 415 US gal, plus 2x120 or 200 gal drop tanks.
Launch: Conventional. Aircraft programmed to come to a halt and make a safe take off and climb out if control is lost on take off.
Guidance: Radar command guidance system, primary mode is NoLO (No Local Operator) over full range of pre-programmed manoeuvres, including take off and landing, but provision for pilot control is retained. Control is from one fixed and one mobile station manufactured by Vega Precision Laboaratories, or a Drone Control System made by IBM.
Special Equipment: Vega Precision Laboratories command/telemetry data system, and FSI interface computer for processing uplink command and downlink telemetry data to and from aircraft. A fourth installation, the IBM Drone Function Control System, is optional. Other options include radar altimeter (for simulated low-level attacks), scoring gear, infra-red flare dispenser, chaff dispenser, ECM pods and TV (used as a take off and landing aid).
Weights: Empty; 10,850 lb. Clean, take off; 13,500 lb. Take off + 2x120 gal drop tanks; 15,200 lb.
Max Speed: 527 kts/607 mph.
Ceiling: 45,000 ft.
Stress Limit: +7.0G.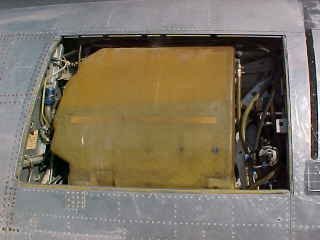 Destruct system charge being inserted into QF-86E wing tank filler neck (left) and smoke oil tank installation in the right-hand gun bay (right).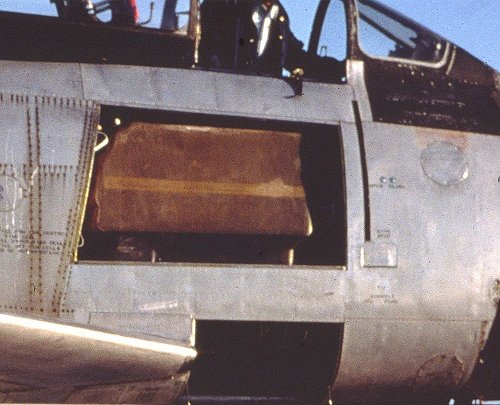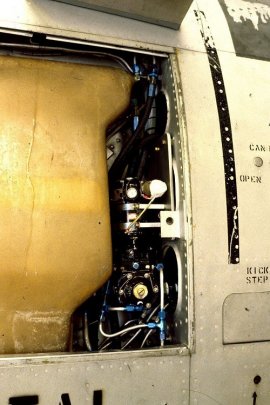 At left, a slightly different smoke oil tank seen on another QF-86E in November 1980, - all were fibreglass in contruction. At right is the pump used to pass the oil down to the tail end of the aircraft (photo dated 10 August 1981).
Target Towing
Further to the target drone requirement, FSI had identified a USAF requirement for air-to-air gunnery target towing. With no Air Force target towing capability at that time, Flight Systems proposed an $1875 fee per sortie using one Canadair Sabre 6 during a trial period that gave Tactical Air Command (TAC) the opportunity to put together a full contract during the 1979-80 time period. As a result, the single Sabre 6 was deployed to Holloman AFB for trials, equipped with a dart target rig under its left wing. Successfully completed, these trials impressed the Air Force sufficiently for TAC to be budgeted immediately to cover the operation of a trio of dart-towing Sabres.
With contract completion, FSI began conversion of further Canadair Sabres (mainly Sabre 6s) to enable Dart targets to be carried. Conventionally piloted, these aircraft differed from the QF-86Es in wearing FSI's smart blue and white corporate colour scheme. The three aircraft utilised to support this mission spent much of their time away from Mojave, and could often be found towing targets at various US Air Force Bases, particularly Eglin and Tyndall AFBs in Florida and Luke AFB in Arizona. They would spend 1-2 weeks at each location.
Following on from the success of the TAC operation, Sharkey Warrick proposed that USAF's Pacific Air Force (PACAF) could be supported in a similar manner. A further contract was subsequently awarded, and a further three FSI Sabre target tugs (N91FS, N92FS and N93FS) plus a handful of personnel were deployed to Kadena AFB, Okinawa to serve PACAF requirements. An FSI maintenance team would annually travel to Kadena to service these aircraft. Though based at Kadena, other missions were flown from Osan AB in Korea on a number of occasions. Many of these target tugs were purchased from the defunct Haydon-Baillie collection in the UK.
Completing its USAF target towing coverage, Flight Systems provided the capability in Europe by converting a number of ex-Danish F-100F Super Sabres. Though beyond the scope of this book, it is worth noting that they were based at Deccimomannu AB in Sardinia. Base maintenance and storage was carried out by Flight Refuelling Limited at Hurn airfield near Bournemouth in the UK.
Flight Systems also operated one further Sabre on a number of projects. This machine, Sabre 5 serial number 23367 was acquired from Dave McEwen, but instead of routing through the drone conversion line, it was set aside for 'special' treatment. Laidlaw and his team in effect built up a brand-new Sabre 5, using spares from an extensive inventory bought from McEwen, and fitted an Orenda 14 engine, as fitted in the Sabre 6. Registered N86FS and sporting a highly-polished natural metal finish, the aircraft was used as a chase plane in a number of flight test programmes, including those of the Canadair Challenger and the Cessna Citation III business jets. Bob Laidlaw was especially proud of this aircraft – he had his name painted on the canopy rail – and referred to it as, "Probably the most beautiful Sabre 5 imagineable". N86FS was later used as a target tug, and gained the overall white and blue colour scheme of its stablemates. As of this writing (November 2000) it was stored at Mojave.
QF-86E Target Drones - individual aircraft details
Canadair Sabre 5
RCAF 23021. To N1049D May79. Crashed at White Sands NM 01Feb80 after ground station malfunction.
RCAF 23028. To N99605 .78. Shot down by Patriot missile, White Sands NM 12Oct78.
RCAF 23034. To N1046G May79. Cancelled from register Nov82.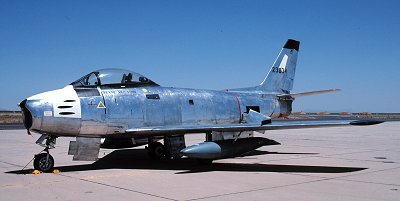 23034 at Mojave (Scott Van Aken)
RCAF 23036. To N1046P May79. Flew into ground 18Sep82 White Sands NM.
RCAF 23058. To N1046S May79. Cancelled from register Nov82.
RCAF 23096. ex-N8686F with Boeing, to FSI Jul74, and registered N74180. Reported sold .86.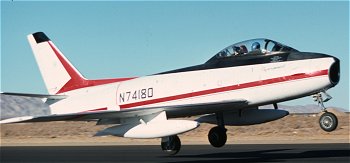 RCAF 23097. To N5591C Feb80. Mill Race. Shot down by Standard missile 31Jul86
RCAF 23102. To N63551 (date?). Lost at White Sands 30Jun78 after Roland near miss.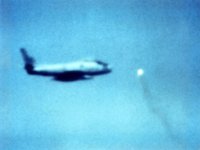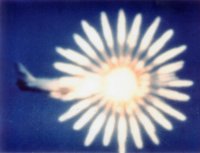 Approach and intercept of QF-86E 23102 by a Roland missile over White Sands. The missile was fitted with a proximity fuse and the drone incredibly survived the explosion. However, the shock somehow activated the destruct system, and a few seconds later the Sabre exploded. (Bob Laidlaw)
RCAF 23106. To N5591F Feb80. Shot down by ADATS 14May88.
RCAF 23128. To N96123 Sep76. Shot down by DIVADS gun at White Sands NM 29Aug80.
RCAF 23129. No further details.
RCAF 23133. To N96120 Sep76. Crashed at White Sands NM 18May78 after control malfunction.
RCAF 23135. To N92426 .78. Crashed on landing at White Sands NM 22May79.

RCAF 23146. To N5591K Feb80. Shot down by Patriot missile, White Sands NM 26Oct82.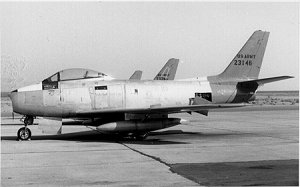 RCAF 23147. To N72491 Dec77. Damaged at White Sands NM 16Oct79, presumed scrapped.
RCAF 23151. To N5591L Feb80. Crashed on recovery, White Sands NM 23Aug82.
RCAF 23160. To N5591M Feb80. Shot down by Stinger missile, White Sands NM 21Aug82.
RCAF 23190. To N98230 Dec77. Shot down by Sidewinder missile, White Sands 08Jan80.
RCAF 23195. To N5591N Feb80. Shot down by ADATS 26Jun82.
RCAF 23198. To N5591S Feb80. Shot down by Stinger 25Sep82.
RCAF 23202. To N55911 Feb80. Shot down by ADATS 11Apr84.
RCAF 23203. To FSI as N201X .77. Cancelled from register Jun83.
RCAF 23206. To N5592D Feb80. Mill Race. Shot down by Chaparral system 27Mar87.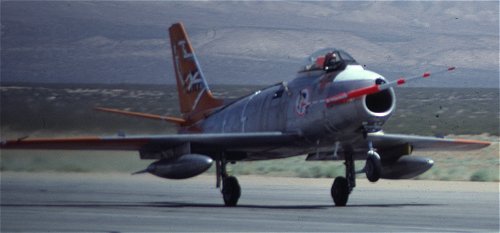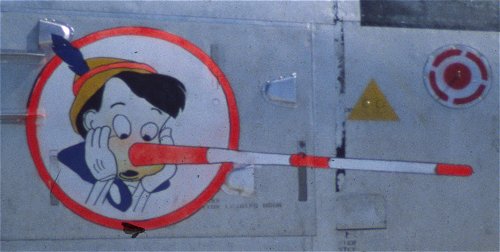 Seen taking off for its maiden flight, 23206/N5592D was the first Mill Race aircraft to fly - huge nose boom was fitted to both aircraft used in this test. At right is the Mill Race nose art applied to both aircraft.
RCAF 23207. To N5592K May80. Shot down by ADATS 06Apr84.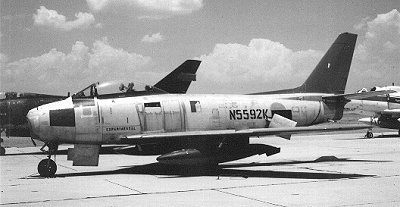 RCAF 23208. To N46869 Feb84. Cancelled from register Apr88 (presumed written off), wings to N86EA.
RCAF 23209. To N4688J Feb84. Served with 6585th TG, Holloman AFB NM by Sep91, registration cancelled Apr88. For sale by Aviation Classics Reno NV Apr98.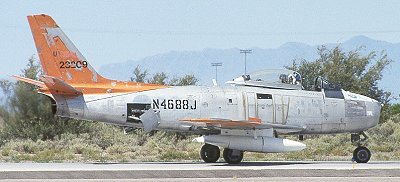 23209 pictured at Holloman AFB.
RCAF 23215. To N2291B Jul78. Shot down by Patriot missile, White Sands NM 27Apr79.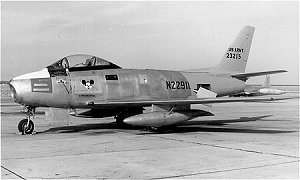 RCAF 23222. To N46882 Nov83. (not converted?), reported sold .86
RCAF 23223. (not converted?). To Southern California Aviation Inc. Corona Del Mar CA Jan85, became N86EA.
RCAF 23224. No further details.
RCAF 23226. To N46883 Feb84. (not converted?), to Southern California Aviation Inc. Corona Del Mar .86
RCAF 23227. To N2290R Jul78. Cancelled from register Jun83.
RCAF 23238. (not converted?). To Southern California Aviation Inc. Corona Del Mar CA Jan85, became N86EB.
RCAF 23241. To N8544 (date?), ex-Lockheed, to FSI Mar76, written off in crash at Mojave.
RCAF 23252. To N96122 Sep76. Shot down by Patriot missile, White Sands NM 08Nov79.
RCAF 23259. To N98250 Nov77. Shot down by Standard missile 21Aug85.
RCAF 23268. To N96125 Sep76. Damaged by Roland missile and crashed on recovery to White Sands NM 16Aug78. Sale reported to Newport Beach CA .86 (Global Aerospace?).
RCAF 23280. To N2290V Jul78. Cancelled from register Jun83.
RCAF 23283. To N2290E (date?)(To N2209Z?). Cancelled from register Jun83.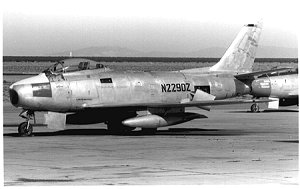 RCAF 23289. To N99594 .78. Shot down by Roland 16Aug78.
RCAF 23291. To N70726 Sep77. Shot down by Roland 29Aug83.
RCAF 23293. To N4689H Feb84. To Southern California Aviation Inc. Corona Del Mar CA .86.
RCAF 23300. To N4724A Feb84. Cancelled from register Dec85, served with 6585th TG, Holloman AFB NM by Sep91. Noted at Mojave Jul96.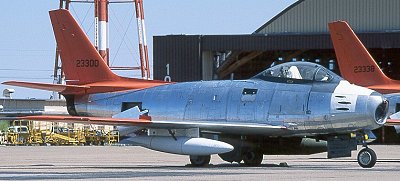 23300 is still airworthy and now owned by Rock Clemens at Carson City, NV.
RCAF 23303. No further details.
RCAF 23306. To N306X (.77?). Shot down by Roland missile, White Sands NM 22Jul78.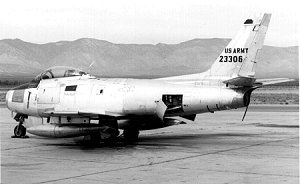 RCAF 23308. To N4724N Feb84. Cancelled from register Oct84.
RCAF 23309. To N92473 .78. Shot down by Chaparral missile system 11Jun86.
RCAF 23310. No further details.
RCAF 23315. To N72492 Dec77. To Fighter Imports Inc. Chino CA .89.
RCAF 23320. To N74170 (.76?). First QF-86E, shot down by DIVADS gun at White Sands NM 29Aug80.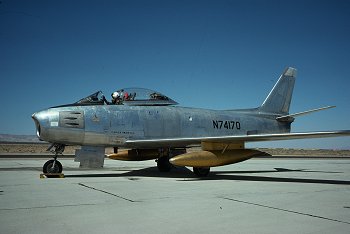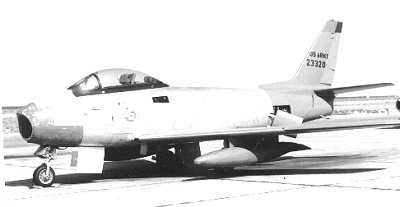 Two phases in the life of 23320/N74170 - left as the prototype QF-86E undergoing initial trials and at right awaiting US Army service.

RCAF 23323. To N98279 Nov77. Shot down by DivAD 13Apr85.
RCAF 23331. To N46901 Feb84. Cancelled from register Oct84.
RCAF 23338. To N4689N Feb84. To Chanute AFB IL .88(?) (aircraft noted at Mojave Jul96) - survived 13 unmanned sorties.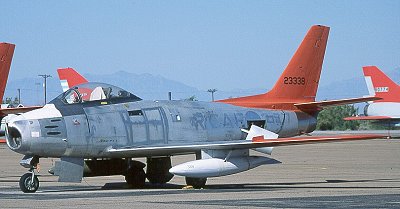 Seen here during 1995 at Holloman AFB, 23338 survived the drone programme.
RCAF 23339. To N46791 .78. Destroyed by ground station after control malfunction, White Sands NM 25Jul81
RCAF 23344. (not converted?). To Southern California Aviation Inc. Corona Del Mar CA Jan85, became N86EC.
RCAF 23351. (not converted?). To Southern California Aviation Inc. Corona Del Mar CA Jan85, became N86ED.
RCAF 23352. To N98270 Nov77. Lost after autopilot malfunctioned on Patriot mission 06Nov82.
RCAF 23358. To N4690J Feb84. Cancelled from register Apr88.
RCAF 23363. To N74180 .(?). Swapped with Boeing Seattle WA for 23096 in .74, which became N74180 no.2.
Two further Sabre 5s were registered N98275 and N99175, possibly 23129, 23224, 23303 or 23310.

Canadair Sabre 6
RCAF 23454. To N186F (.76?). Crashed on recovery to White Sands NM 17May78.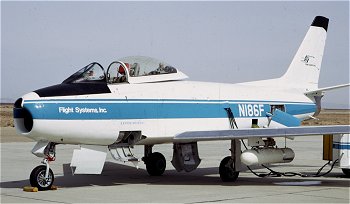 SAAF 350/ c.n. 1459. To N3841V Mar83, operating with 6585th TG Holloman AFB NM by .91 as '23669' - no further details
SAAF 352/ c.n. 1461. To N38301 Oct83, not converted, to Corporate Jet, Scottsdale AZ Jul91
SAAF 359/ c.n. 1468. To N3831B Oct83, not converted, to M D Aire Encino CA May91
SAAF 363/ c.n. 1472. To N3842H Oct83, not converted, to Corporate Jet, Scottsdale AZ Mar92
SAAF 371/ c.n. 1480. To N3842J Oct83, not converted, to T J Brown, New Bern NC .91
SAAF 373/ c.n. 1482. To N3844E Oct83, not converted, to Darryl Greenamyer, Ocala FL .92
SAAF 378/ c.n. 1487. To N38453 Oct83, not converted, to Global Aerospace, Newport Beach CA Sep92


N38453 (1487) is now owned by Al Hansen at Mojave. It is marked as '1487'. (Melvyn Hiscock)
SAAF 380/ c.n. 1489. To N3846J Oct83, not converted, to Global Aerospace, Newport Beach CA Sep92

Canadair Sabre Target Tugs
Canadair Sabre 5
RCAF 23231. To N91FS Jun82. Noted with FSI .95
RCAF 23285. To N92FS Jun82. Noted with FSI .95
RCAF 23347. To N93FS Feb82. Lost off Okinawa (PACAF).
RCAF 23367. To N8549 (date?), re-registered N92402 Sep76, re-registered N86FS Sep77. Noted at Mojave Dec93.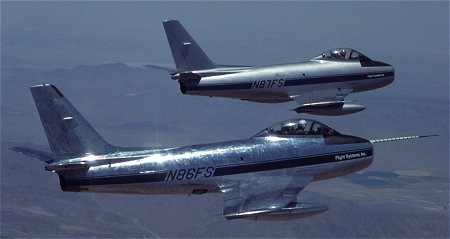 N87FS (top) and N86FS were still stored with BAE/Flight Systems at Mojave during 2001, but N86FS is now airworthy again with Flying Fossils.
SAAF 382/ c.n. 1491. To N3847H Oct83, reported re-registered N87FS, to Global Aerospace, Newport Beach CA Sep92
c.n. 1593. To N1039B Apr79, re-registered N81FS Jun80. Lost in Atlantic Ocean (Mar87?)
c.n. 1600. To N1039C Apr79, re-registered N82FS Oct81. To Smith & Sons Aircraft, Paso Robles CA Jun93 as N186JC.
c.n. 1666. To N1039D Apr79, re-registered N83FS Oct81. Crashed in Tampa Bay .83, reported recovered and flown again, but off register by Apr84.
c.n. 1675. To N1039K Apr79, re-registered N80FS May81. No further details.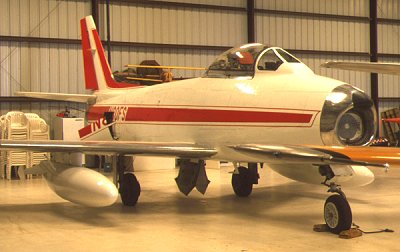 Now privately owned, N80FS with Al Hansen at Mojave 2001. (Melvyn Hiscock)
c.n. 1710. To N1039L Apr79, re-registered N89FS Oct81. To Airspray, Red Deer, Canada Jan98 as C-GBUI.

The QF-86E in Detail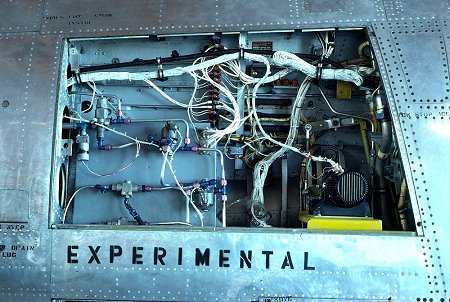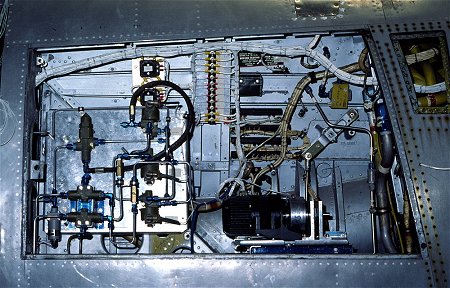 At left, prototype drone hydraulic installation in the left-hand gun bay of N74170, May 1975. Right - standardised drone installation in 1977. Note re-positioning of drive motor at bottom right.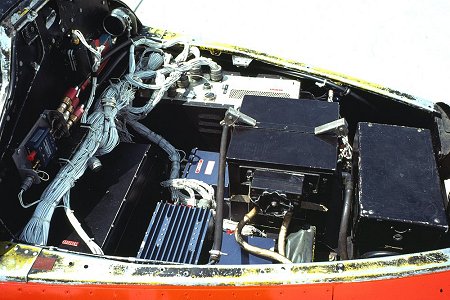 Again, prototype nose bay installation on the prototype QF-86E, June 1975 (left) and standardised nose bay installation on N201X, circa 1977 at right.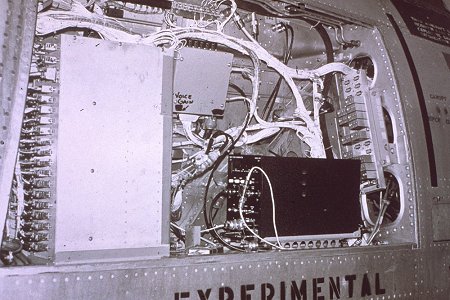 Angle of attack probe fitted to forward fuselage (left) and test setup of right-hand gun bay (right).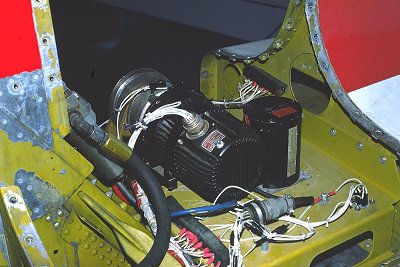 Remote control tailplane actuator motor fitted to N74180, May 1976.